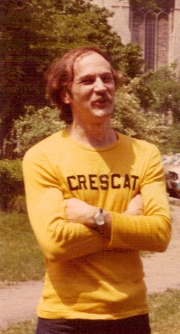 Miscellany
Kenneth Kaye's publications on miscellaneous topics
My first paid writing job. Included here only to make this chapter in the history of classroom education searchable on the Internet.
The University of Chicago's Hillel House had hosted an annual mock symposium for many years. I was honored to be invited in the fall of 1977, in the midst of my tenure review. Despite my cogent argument that this definitive word on the subject should put an end to that anti-intellectual punfest, I believe the tradition continues. For me, however, it marked not only the pinnacle of my academic career but the most enthusiastic reception any audience has accorded my work, in my entire life.
My father, Saul Kaye, a chemist and industrial microbiologist, introduced me to Mad magazine soon after it started in 1955. Later, when I was in high school, he showed me his favorite humor magazine, the elite Journal of Irreproducible Results. Since he never acknowledged that psychology belonged to the sciences, I was especially proud, more than 20 years later, to show him that I had achieved scientific status with the publication of this article.
I enrolled in the MFA program in January 2004, six months after my father passed away. Although I had written only a few poems and published none since high school, the atmosphere must have inspired me. I reformatted it as prose for our graduation issue of the Bennington Review, so as not to claim entitlement to membership in the poets' track. But in my mind, it's really a poem; and if I weren't planning for my ashes to be scattered on Lake Michigan, I'd have this carved on my headstone.